Big News! The class 9 results 2023 from all Punjab boards have been revealed today at 10:00 AM along with the result gazette PDF. We, at rezult.pk, have promptly shared the 9th class outcomes from all these boards. Now, you have the convenience to access the BISE DG Khan 9th Class Result 2023 right here on our website. Every year, a multitude of students participate in the SSC part 1 exams within the DG Khan region. The Board in DG Khan holds numerous affiliated educational institutions, each keen on receiving their results individually. To cater to this need, the board releases a PDF-formatted result gazette, enabling schools to access results based on their establishment.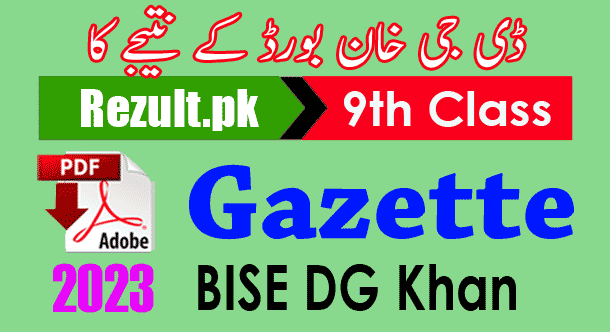 Using this gazette result 2023 for the 9th class, students can seamlessly search for their DG Khan board results of 2023 9th class by name. Moreover, an added bonus is the availability of the list of top-performing students.
Worried about the process of acquiring the result gazette 2023? Worry not, as it's a straight-forward and effortless endeavor. By clicking on the provided download link below and following the simple instructions, you can secure your own PDF copy of the result gazette. It's important to note that due to the high number of users attempting to download the same file simultaneously, a little patience might be required. Keep visiting us to successfully obtain your PDF file.