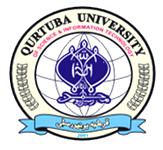 Qurtaba University of Science & Information Technology QUSIT is a leading Science & Information Technology University in D I Khan has displayed the complete QU Admission Advertisement 2022. Candidates who looking for Admissions in BS programs then we are informed you here that QU is receiving the application form in below given programs:
BS International Relations
BS Accounting & Finance
BS Computer Sciences
BS Political Sciences
BS Mathematics BS Zoology
BS Botany BS English
BS Chemistry
BS Chemistry
BS Commerce      
B.SC Civil Engineering
B.SC Electrical Engineering
M.Phil Chemistry
M.Phil Physics
LLB Admission
Pharm D admission 2022
MBA Executive  


MS Management Sciences
MS Computer Sciences
MS Pakistan Studies
MS Mathematics
MS Economics
MS Education
Visit on the official website of QU https:..qurtuba.edu.pk and get online application form for submission. Download below Qurtaba University admission advertisement.