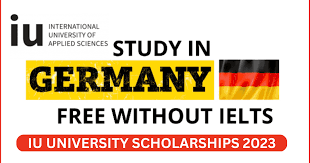 International University of Applied Sciences is a leading institute in Germany where a right time has open for all students to apply for new scholarship. Almost 4000 scholarships awards has already published for Bachelor, Master & PhD programs. Almost 85000 students are currently enrolled at IU which makes IU the best one. International university is providing a best & high quality education from over two decades. New technologies & innovations are coming from students of IU Germany. Online learning system is also considered here in this prestigious scholarship. IU got record breaking applications in September and you have few days left to apply for this scholarship.
This is a best German University where 100000 students reaching to enrollment. Different fields of studies like Human Resources, Finance, Business Intelligence, Entrepreneurship, or reputable STEM fields like IT, Computer Science, Artificial Intelligence, Data Science, or any other. A lot of benefits are now available here in International University of Applied Sciences IUAS Germany.
Overview IU University Germany Scholarship:
Host University: International University of Applied Sciences
Host Country: Germany
Field of Study: Bachelor, Master & PhD
Financial Coverage: Funded
Financial Benefits:
Tuition fee benefit
Medical Insurance benefit
Online Free of cost facility benefits
Eligibility Criteria
You must have 80 Points minimum TOEFL
Minimum 6 Points out of 9 for IELTS
Duolingo English Test
Cambridge Certificate
Speexx B2.2 Certificate
Countries which are exempted for IELTS like English-speaking countries (UK, USA, New Zealand, Ireland, and Australia) is on its own enough evidence of English language skills.
How to Apply for International University Scholarship:
Candidates can now open the link https://iu.prf.hn/click/camref:1011lf9bp/adref:article21/creativeref:1101l73634/ where the complete application form is available. It is required to all candidates to fill the application form.