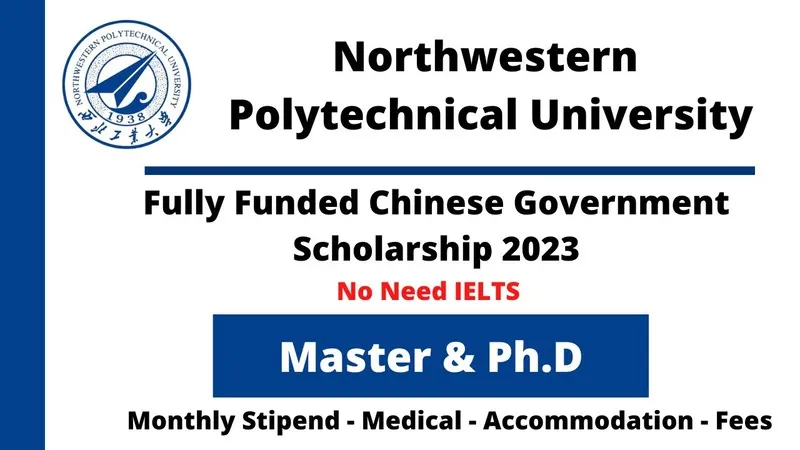 Northwestern Polytechnic University is one of the best educational university in China has announced the latest scholarship for all entire world. Now NPU is providing different Bachelor scholarships, Master Scholarships & Doctorate Scholarship 2023. University is now offering fully funded which covers complete expenses of each student & much more benefits. This is NPU President Scholarship for academic session of 2023-2024. Different Academic Fields are the part of this China Fully Funded Scholarships 2023.
Interested candidates can now apply for this NPU Scholarship in different field and grades. NPU Was established in 1938 located in the city of Shaanxi, China. Globally prestigious scholarship has been announced and great opportunity for all candidates. CSC Portal is now available for all international candidates where complete format is available for application procedure.
Eligibility Criteria for NPU China Scholarship 2023
International Student (Not being a Chinese citizen)
Minimum Age Requirement:
Undergraduate students must not be more than 25 years old,
For master's degree age limit is 35 years
For Ph.D. degree, age limit is 40 years
Minimum qualification:
Higher Secondary School Certificate or equivalent for undergraduate students,
Bachelor Degree for the masters degree
Masters degree for the doctoral degree.
Scholarships 2023 Financial Benefits:
Full Tuition Fee Covered
Accommodation
Insurance
Living Allowances:
Bachelor: 15,00RMB/Month
Master: 2000RMB/Month
Doctorate: 3500RMB/Month.
Steps to submit NPU International Scholarships 2023
If you want to get scholarship form online then you have to visit on different official links:
For Bachelor https://studyat.nwpu.edu.cn/info/1089/2124.htm
For Master https://studyat.nwpu.edu.cn/info/1303/3791.htm