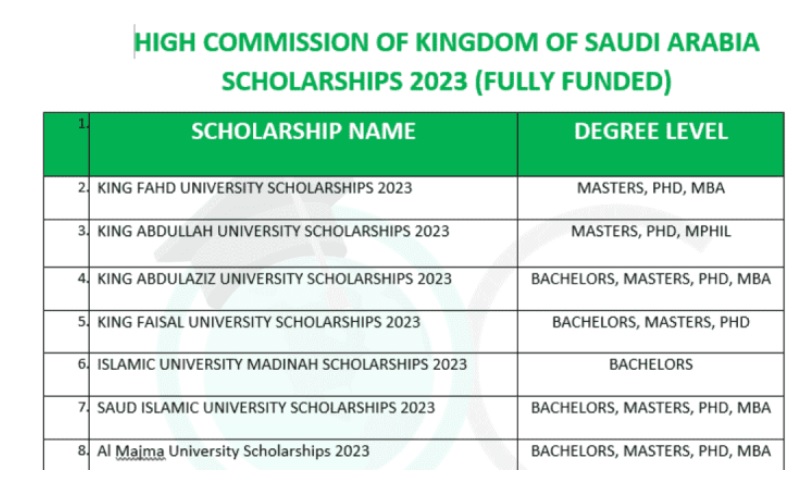 Saudi Arabian High Commission Scholarship of 2023-2024 are announced for all candidates around the world. This is a completely funded scholarship study in Saudi Arabia in Saudi Arabian from Government are open for overseas students for spring 2023 and fall 2024. High Commission KSA Scholarship are now open for all candidates who want to get admission in Bachelor degree, Graduate Degree, MBA Degree & Doctoral Degree. This is a special scholarship for all candidates and news has been in ground that the Kingdom of Saudi Arabia has announced almost 600 latest Scholarships in twenty five KSA Universities.
You have now a great chance if you will get this opportunity in KSA. Universities will help out you for processing of visa. There are approx. 2000 undergraduates, 160 Masters & 90 courses for PhD are available. Both male & female can apply for this scholarship in KSA. Out of these, 29 Saudi Universities are 100 top of the QS ranking. This is a great chance for all international students to enroll in top universities. High commission of Kingdom of Saudi Arabia scholarships are open now.
KSA Universities Scholarship 2023 Details:
Host University: KSA Universities
Degree level: BS, MS, PhD, MBA
Scholarship coverage: Fully Funded
Eligible nationality: All Nationalities
Award country: Saudi Arabia
Scholarship Coverages:
Monthly Stipend
Preparation Allowance
Health Care.
Accommodation And Facilities.
Subsidized Meals
Airfare Ticket Annually.
List of Scholarships Universities:
King Abdulaziz University
King Abduallah University
King Fahd University
Islamic University Madinah
Sa'ud Islamic University
King Faisal University
Al-Majma'ah University
Study of Field:
Versatile academic fields including Sciences, Engineering, Humanities, Arts, Information Technology, Business administration, Computer Engineering & Sciences.
How to Apply:
You can get online application form for Saudi Arabia Scholarship 2023 on online plat form https://www.mu.edu.sa/en/departments/vice-rector-educational-affairs/12922 . Complete rules and regulation and application form is available on that page & keep in touch with us for latest updates.