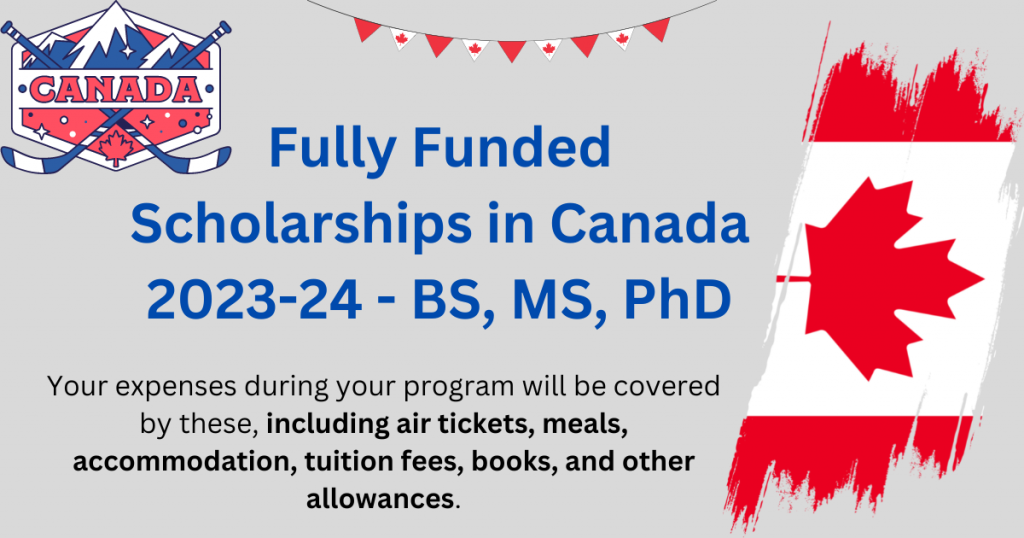 Canada Scholarships are very important as many international candidates are looking for Canadian Scholarships 2023. Now a great chance for all the students from different countries for the world to get the best scholarship for Undergraduate degree, Graduate Degree, Postgraduate degree & doctoral degree. Fully Funded scholarships 2023 are now live in the top Universities of Canada. Canada is a suitable place for better career and you can continue your education in different fields in Canada. Different Government & Public universities has announced different scholarships so you have now complete details here on Rezult.pk page.  Well known scholars & professional researchers are the part of these scholarships in Canada.
You are now on the page where complete list along with online link is available for all of you. You can easily read scholarship details and can apply online for these universities. Candidates are advised to check your eligibility in the Canadian Universities and must apply for it. If you have good grades and your marks are in the limitation of Canadian University Scholarship then you can get this chance which is very important for your future.
Overview of Canadian University Scholarship 2023:
University: Canadian Universities
Degree level: Gradute, Postgraduate & PhD
Scholarship coverage: Fully Funded
Eligible nationality: All
Award country: Canada
Last Date: Depend on University
Following are the Universities available for Scholarships in Canada:
Dalhousie University Scholarship 2023
Candidates have chance for scholarship in Dalhouseie University in Canada & you can click on https://www.dal.ca/academics/programs/graduate/internetworking/admissions/how-to-apply.html where further detail is available.
University of Victoria Scholarship 2023:
University of Victoria is a great university is available for BS MS & PhD scholarship. Visit on https://www.uvic.ca/admissions/uvic-admissions/index.php for application form & last date is June 2023.
University of Winnepeg Scholarships 2023:
University of Winnepeg has announced the scholarship in Canada for International Students so apply online through https://www.uwinnipeg.ca/future-student/apply/ready-to-apply.html link. Last date for application form is 1st June 2023.
Brock University Scholarships 2023:
Brock University is a public research university. More than 120 programs to match your profession. Form submission last date is 1st June 2023. Online link is https://brocku.ca/admissions/deadlines/ .
University of Saskatchewan Canada Scholarships 2023:
Saskatchewan University Canada scholarships are online now for undergraduate, graduate & doctoral program. You can now visit on https://brightscholarship.com/university-of-saskatchewan-scholarships/ where the application form is available.
University of Alberta Scholarships 2023:
Alberta University is the top 5th University of Canada offering the scholarship program. First premier university has open the option for all international candidates to pursue their education form around the world. https://brightscholarship.com/university-of-alberta-scholarships-canada/ link is available for online registration.
McGill University Scholarships 2023:
Fully funded scholarship is now available for all students for Master & PhD program in McGill University. It is one of the leading university and you can open the link of https://www.mcgill.ca/gradapplicants/funding/external/mccall-macbain-scholarship where online form is available.
University of Waterloo Scholarships 2023:
International Candidates can now apply for Waterloo Scholarship for many programs. This is 9th best university in Canada and you can visit on https://uwaterloo.ca/admissions/ for application form.
Canadian Government Scholarships 2023:
The Canadian Prime Minister Supports International Students. A Great Selection for a best future. Open the link https://brightscholarship.com/canadian-government-scholarships/ for more information.