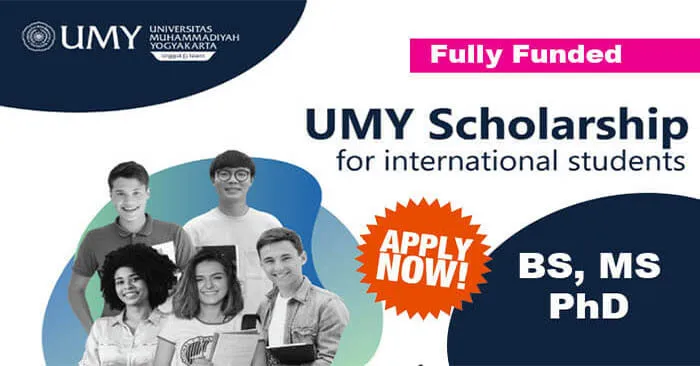 UMY University is one of the reputed University in Indonesia where candidates have a complete chance to get the scholarship in Undergraduate, Postgraduate and Doctorate program.  All international students form entire world are eligible to apply for UMY Scholarships 2023-2024. UMY is now offering a very distinguished educational scholarship so don't miss the chance to get education from Universitas Muhammadiyah Yogyakarta (UMY). Under the best professionals & Experiences researchers, you can pursue your education in UMY scholarship 2023. Main mission of UMY Scholarship is to provide best support to all international deserving students who have best background in education.
UMY University was formed in 1981 and is a private institute in Indonesia and 2nd largest Islamic organization in Indonesia. All concerned and interested candidates can avail the best opportunity for their better career. Education is the key to success and all eligible candidates should not miss the chance to come forward.
UMY University Scholarship 2023 Details:
University: UMY Indonesia
Degree level: Undergraduate, Masters, PhD
Scholarship coverage: Fully Funded
Eligible nationality: International
Award country: Indonesia
Last Date: 17 February 2023
Financial Benefits of scholarship:
Complete Tuition Fee
Free Dormitory (1 year)
Monthly Allowance for Living.
Bachelors: 1,500,000 IDR
Master's: 2,000,000 IDR
Ph.D.: 2,250,000 IDR
Available subjects for Scholarship:
Nursing
Pharmacy
International Relations
Communication Science
Government Affairs & Administration
English Language Education
Arabic Language Education
Japanese Language Education
Civil Engineering
Electrical Engineering
Mechanical Engineering
Information Technology
Faculty of Law
Law
Communication and Islamic Broadcasting
Islamic Education
Muamalat (Islamic Banking and Finance)
How to Submit Application form for Scholarship 2023
Candidates can download the application form for UMY Scholarship online on https://internationaladmissions.umy.ac.id/. Procedure is very simple and you need to fill the complete form online and then submit it online.