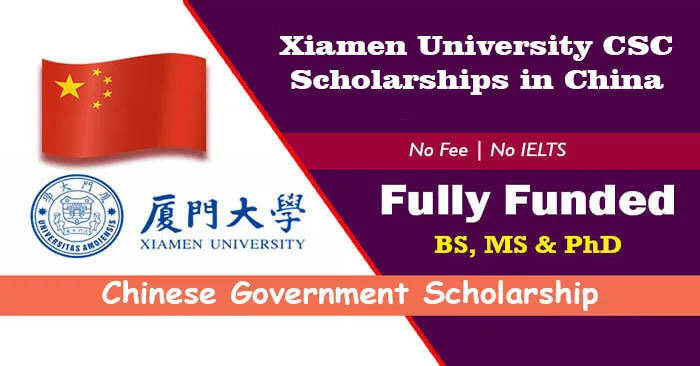 Chinese Government Scholarship which is a full scholarship set up by the ministry of education of China has been introduced for year 2023-2024. International all candidates have now complete opportunity to get fully funded scholarship for China Xiamen University.  There are different scholarships are offering by China government only for overseas candidates. Eligible candidates can apply online for this scholarship. Candidates who want to continue their study in Bachelor degree, Master Degree & Doctoral degree program in Xiamen University CSC for session 2023/2024. Almost maximum fields & majors subjects are the part of this scholarship under the supervision of Chinese Government.
Xiamen University was founded in 1921 and considered as notable institute in China. It is also a best teaching & research university offering 82 Undergraduate program. There are numerous experienced faculty members are available in Xiamen University.
Further Details about Xiamen University Scholarship 2023
University: Xiamen University
Degree level: Bachelors, Masters, PhD
Scholarship coverage: Fully Funded
Eligible nationality: International
Award country: China
Last Date: 28 February 2022
Financial Benefits of Xiamen University 2023 Scholarship
There are a lot of different scholarships has been announced by Xiamen University China where candidates can get different benefits and facilities. Complete tuition fee is available, On Campus accommodation fee different amount for different degrees. Living allowance & Medical insurance has also added in the scholarship program.
Eligibility Criteria for Xiamen Scholarship 2023
Applicants must be non-Chinese citizens in good health.
Educational background and age limits (as of September 1, 2023)
Bachelor's programs: hold a high school diploma or above and be under the age of 25
Master's programs: hold a bachelor's degree or above and be under the age of 40
Doctoral programs: hold a master's degree or above and be under the age of 45.
How to Apply.
You can register for this scholarship on https://studyinchina.csc.edu.cn/. You can enter all required data if you are eligible for this scholarship.